1. Klorane Tinted Dry Shampoo with Oat Milk

The Klorane Tinted Dry Shampoo is a also a very popular dry shampoo. It is made especially for people with dark hair (brunettes). This product became handy and very useful when the former original Klorane dry shampoo was becoming unbearable for some people.
Oat milk is rich in starch and polysaccharides so it helps your hair to become sticky and more easy to style. This product is popular with people because of its very functional ingredients and modern formula that yields more results.
It must be noted that this shampoo works well for people with black hair as the pigments easily blends into the dark hair without leaving any residue.
It is cleanses your hair adding volume and texture. It is paraben and colorant. It helps restore freshness and lightness as this is the primary function of most dry shampoo – to help prevent washing away, thereby sustaining freshness.
Thanks to the combination of oat milk, with protective properties. It helps your hair regain volume and texture within just 2 minutes.
2. Living Proof Perfect Hair Day Dry Shampoo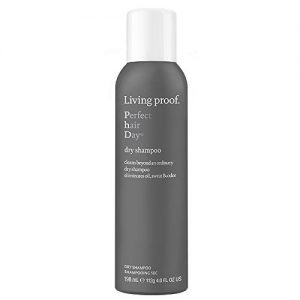 The Living Proof Perfect Hair Day Dry Shampoo is just beyond an ordinary shampoo! It contains powders that help dry up and remove excess oil and sweat.
The patented OFPMA molecule help keeps the powder on the hair without too much abrasion, making it very easy to deal with and use. It also has ingredients that inhibit irritating, undesirable and bad odour and finally releasing good pleasing all-refreshing smell. Remember that it does not only deal with oil, but also with sweat and impurities.
3. Batiste Dry Shampoo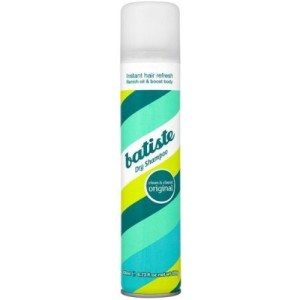 The Batiste Dry shampoo is a quick revitalizing shampoo for fine hair moisture. It revitalizes and erases excess grease/oil. This is a great shampoo for amazing and fast results. It quickly adds more volume, good texture and more 'life' to your hair.
This shampoo is very easy to use and it makes hair become more manageable and maintainable. Just spray into the base of the hair (scalp) and gently massage the shampoo with your fingers. That is all that takes for your hair to become more shinning and vibrant within days.
Very proficient!
4. Sachajuan Volume Powder Shampoo

The Sachajuan Volume Powder is by far one of the best dry shampoos still in use! If you need good hair structure and quick hair volumizer shampoo, I think you should quickly get this product. It has a perfect hair management system.
The Volume Powder is formulated with exclusive ocean silk technology – a combination of algae's and other tailor-made ingredients that offer a healing effect for protection and flexible style that won't weigh the hair down. It does not strip away moisture and is popularly used for any type of hair, even for very stubborn hair. The strength of this amazing shampoo is top class!
5. Ambiance Dry Shampoo
Ambiance, a pure natural dry shampoo that immediately cleans and refreshes your hair, of course without water. It is sulphate-free and preservative-free, it is recommended for any hair type.
Ambiance is very natural and effectively energises the root to actively support fullness of hair. The formula refreshes, sums volume, heals the scalp and extends the time between hair washings.
Ambiance also has a unique property: it does not contain alcohol. Outside there, you will find many shampoos containing alcohol, so it is not combustible and will not in any way dry out the hair
It also removes excess oil like every dry shampoo making hair loo truly purified.
The product is very reliable!