Losing your hair can be a very emotionally devastating time in your life. As such most persons suffering from hair loss seek any affordable means they can to salvage every straw of hair that they can. They are various hair loss products on the market with varying degrees of effectiveness. Today we will be reviewing the Biotin Hair Thickening Shampoo from Paisle Botanics.
What is Biotin Hair Thickening Shampoo
Paisle Botanics Biotin hair thickening shampoo uses an ingredient that has been shown to be very effective at combatting hair loss. This ingredient is Biotin. This sets it apart from most other shampoos and hair care products that claim to re-grow hair. It does not matter if your hair loss is as a result of genetics, medical treatments or old age. This shampoo restores your hairline and hair density to give you the youthful looks you once boasted.
Biotin is classified in B series of vitamins. A common nickname for Biotin is vitamin H. This stems from 'haar und haut' which is 'hair and skin' in German. It serves are very important function in your body and overall hair health. Inadequate biotin levels in your body lead to weak hair that is easily damaged. Biotin is soluble in water and is crucial in energy conversion. It is heavily relied on to convert food in your body to usable energy that is used to facilitate cell growth.
The primary focus of the Paisle Botanics Biotin hair thickening shampoo is to heal. This is achieved by use of constituents that moisturize and nourish your scalp and hair. They restore your scalp to healthy levels and encourage growth of hair.
Who Can Use This Shampoo
The shampoo is suitable for both men and women. It is a simple solution to hair regrowth in both adults and children of both genders. The shampoo is a great confidence booster as you watch your hair become healthy, beautiful and attractive too.
How Paisle Botanics Biotin Hair Thickening Shampoo Works
This shampoo improves regrows your hair by doing three main things. The three areas that Paisle Botanics focuses on in the making of this hair thickening shampoo are;
First, it nourishes your scalp and protects it from damage. It at the same time stimulates your skin to have more hair follicles per unit area. By adding strength to your scalp, the shampoo gives your hair a strong and safe anchoring point in the hair follicles. More follicles mean more hair strands for you.
Second, the shampoo gives your hair follicles all that they need to produce strong thick hair and hold it in place without letting go.
Third, the hair thickening shampoo protects your hair from drying out. This makes your hair shafts difficult to splinter, split or break.
Whats In it?
Paisle Botanics hair thickening shampoo has no harsh ingredients in it. It is specially formulated to be free of sulfates, parabens, lye and phosphates. Additionally, the shampoo does not contain any formaldehyde. The shampoo is hypoallergenic and is certified non-GMO.
A number of extracts are found in the Paisle Botanics biotin hair thickening shampoo. These extracts moisturize your scalp, keeping it from flaking and dandruff. Flakes from dead scalp clog up your hair follicles to prevent strands of hair from reaching their full growth potential. Extracts in the Paisle Botanics shampoo include Aloe Vera, Saw Palmetto and Rosemary. They prevent production of DHT and halt hair fall. This is especially useful when you have androgenic alopecia characterized by a pattern of hair loss.
The Three R's
Paisle Botanics christens this shampoo with a number of words starting with 'Re'. First is Re-line which is about restoring your hair line. The second is Re-covery and Re-tip follow. These are about soothing your scalp and triggering hair growth. Last is re-fund as testament to how much Paisle believes in the effectiveness, usefulness and quick action of their biotin hair thickening shampoo. Do not be ashamed of your thinning hair any more.
Hair and how it looks are important in modern style and fashion sense. Bald spots are not likeable, whether on men or women. Hair styling is an important part of your appearance and forms part of your identity. In hair styling, run-away hair is a big drawback. Most beauty and hair-care products address this by using oils to stick hair strands together. However, some go overboard and end up making your hair one big buttery mass. Paisle Botanics Biotin hair thickening shampoo keeps your hair together without making it oily. When used with a conditioner, the shampoo is able to prevent your hair from accumulating static electric charges that lead to fly-aways.
Paisle Botanics biotin hair thickening shampoo cleanses your hair efficiently and gently. It is safe for your color-treated hair and is free of cruelty to animals. Additionally, the shampoo works well with bleached and chemical-treated hair. This shampoo gives you thick shiny hair due to its richness in vitamin E.
Pros and Cons of Paisle Botanics Biotin Hair thickening Shampoo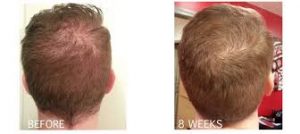 Pros
The shampoo does not contain harsh or harmful chemicals. It is all natural.
It promotes circulation within your scalp. This in turn stimulates your hair follicles to give you very desirable results.
There are quick, easily visible results. Within a short period of using the shampoo routinely to wash your hair, you will note a difference.
The shampoo is a great gift or present item in day-to-day relationship-building.
Cons
A drawback for the Paisle Botanics biotin shampoo is its difficulty to lather. This can be demoralizing if you are used to suds, or looking for lots of suds when you are washing your hair.
The presence of, and number of natural extracts in the shampoo make it likely to cause a reaction from sensitive skin. This presents as localized allergenic reactions in the scalp and on other skin areas that the shampoo may come into contact with.
The bottle containing the shampoo does not have a spout. Caution must be taken when getting shampoo from the bottle. Once you have drawn enough of the shampoo for your hair wash, close the bottle to avoid accidental spills.
To get around these weak points of the shampoo, make sure to rinse your hair thoroughly during use of the Paisle Botanics biotin shampoo. It can leave soapy residue on your hair if you are not careful with it. It is a good idea to use a conditioner alongside the shampoo. This will prevent your hair from drying out. Dry hair is brittle and vulnerable to breaking under minor stress.
Washing your hair with this Paisle Botanics quality product leaves you smelling fresh. It has a refreshing botanical scent that is not only pleasant but also reassuring. The scent from the shampoo gives you calmness and ability to focus on tasks at hand. This makes the shampoo an amazing addition to your hair wash routine. In a few weeks of use, the shampoo transforms you hair from being flat and lifeless to being thick and admirably full.
Packaging of the shampoo is in a rounded bottle. Each bottle contains in it some 8 oz fl of quality shampoo manufactured in the USA. That the shampoo is made in the USA is an assurance that it meets the highest health, safety and quality standards in the beauty and hair care industry.
Using a biotin-loaded hair care product such as the Paisle Botanics biotin hair thickening shampoo is a sure way to restore hair growth. A plus for this excellent shampoo is its ability to take the benefits of biotin directly to the roots of your hair. Routine washing of your hair with this Paisle Botanics shampoo is a great hair loss solution you should explore. For a full crop of easy-to-style hair that you desire, have a bottle or two of Paisle Botanics biotin hair thickening shampoo in your hair-care essentials.