1. Suave Keratin Infusion Dry Shampoo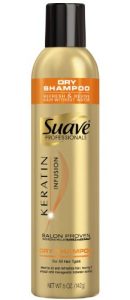 The Keratin Infusion line from Suave Professionals is generally a normal dry shampoo. However the Keralock Technology is used in formulating this shampoo. The Keralock technology is a modern technology that suffuses hair with keratin leaving it lustrous, smooth and easy to style. This dry shampoo truly helps to make the hair become more manageable and smooth. It is known to revive hair totality and to refresh hair body.
When using this shampoo, shake the contents well to make during and before the usage to ensure optimum performance.
2. Moroccan Oil Dry Shampoo for Light Tones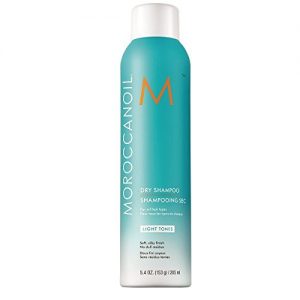 The Moroccan Oil Dry Shampoo is a 'high-result' shampoo with great formula that gives a pleasant smell. It removes build-ups and instantly makes your hair feel refreshed and cleansed. It has been fortified with formula that help balances brassiness and bring out the best in light tones. It contains ultra-fine rice as one of the ingredients that helps to give refreshing fragrance, removes build-up and absorb excess oil. It also offers UV protection.
This dry shampoo is formulated by Moroccan Oil. They have formulated this very effective dry shampoo from the former version, and have now improved the quality of the product to give two different versions of the shampoo: one dark and one in a light tone.
In short, this version of the dry shampoo from Moroccan Oil is precisely for light tones and is very effective.
3. Argan Magic Instant Dry Shampoo

The Argan Magic Instant Dry Shampoo is made from an exclusive formula. It is paraben-free and actively deals with excess oil and impurities for more fresher surroundings around the hair scalp.
It contains argan oil which helps in so many ways to improve your hair health-skin toning (argan oil is very effective in toning the skin), dealing with stretch marks because it promotes the skin elasticity, acne treatment and all other uses. It refreshes your hair without water and is so very reliable.
4. Rockaholic by Tigi Dirty Secret Dry Shampoo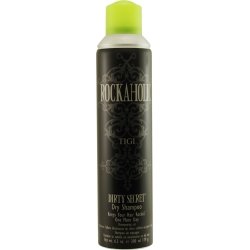 The Rockaholic is a superb dry shampoo product is formulated by Tigi Dirty Secret Shampoos.
This product may not be very popular but it truly works great. Like any dry shampoo, Rockaholic preserves the freshness and originality of the hair. It does have a very strong refreshing smell from the composition ingredients.
It absorbs excess oil at the base of the hair (the skin scalp), thus making the hair neater and new.
5. Pantene Original Fresh Dry Shampoo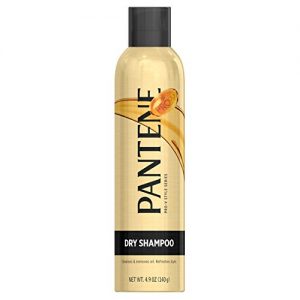 The Pantene Original Fresh Dry Shampoo is very affordable, yet the quality is unique. It has been allergy tested and proven to be a very reliable dry shampoo.
This product is very recommendable because of the simplicity and the unique properties that it contains. It does not make hair powdery as many dry shampoos do. It has a very welcoming scent that is not irritating and doesn't leave residue. It is so easy to apply. It makes your beautiful hair look more beautiful even without washing. The formula absorbs all excess oil/grease that the surroundings around the hair root naturally produce. Thus making the hair better looking and more shiny.